We manufacture boat windows, hatches, screens, washboards, polypropylene tanks, instrument panels, flybridge screens etc. We understand the importance of a rapid response particularly if the vessel is vulnerable to adverse weather or theft. This is why we can usually operate a fast service on request for replacements.
REPLACEMENT BOAT WINDOWS, HATCHES & SCREENS
We stock many variants of marine grade perspex/plexiglas/polycarbonates etc. Clear, tinted, coloured, patterned, mirrored, solvent resistant and unbreakable materials are all available from stock in a wide range of thicknesses varying from 3mm – 20mm.
Our moulding oven is the largest in the area and enables us to produce curved/shaped screens in excess of 3 metres in length. If you are unable to supply the moulding required, Port Synthetics are able to produce tooling for all mouldings.
Below are some of our custom built marine fabrications, for more infomation about the different services we can provide for the marine industry please contact us via our contact us page.
We are currently offering a templating service on Saturdays from 10am – 12pm. We will take a template of your old window / washboard/ or companion way while you wait! Take them back and secure your pride and joy. This is an appointment only service

Either call us on 02392 269788 or use the link below to  book a time.
Replacement Boat Washboard – Before & After
Below you can see an old wooden boat washboard a customer came to us with, and next to it the brand new plastic boat washboard we replaced it with. Lightweight, modern and allowing lots of light inside, this is a great example of the ideal replacement boat washboard – and a very happy customer!
Boat Hatch and Washboard, from the inside and outside
Below you can see a new acrylic boat washboard and hatch we recently manufactured. The light now shining inside this boat has transformed how it feels, and there's no more rotting wood to worry about!
Windows
Perspex/acrylic windows are a light and durable alternative to glass. We are able to cut to your specific shapes, from either your existing windows or templates. We can provide drilled & countersunk holes, polish/bevel edges to suit your individual requirements.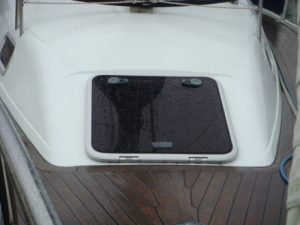 Washboards
We manufacture 1, 2 & 3 part washboards in Perspex/acrylic, which allows light into your cabin whilst keeping it secure. Using a tint ensures you maintain a level of privacy. Unlike wood, acrylic will not rot or deteriorate.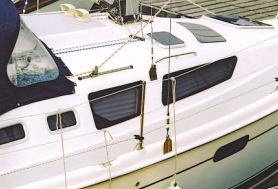 Hatches
Port Synthetics supply new acrylic panels to replace your old crazed/discoloured hatch.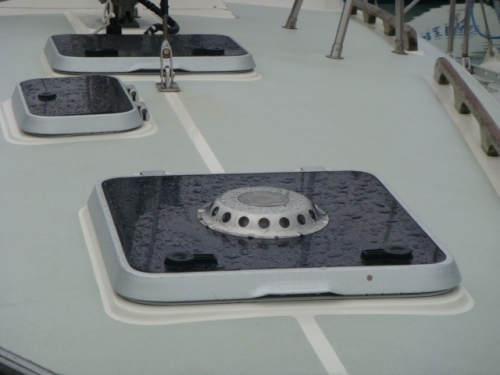 Marine Mirrors New!
Synthetic glass, scratch and moisture resistant. 50% lighter than glass, 10 x more impact resistant than glass. No more edge desilvering, easily machined, drilled, jigsawed etc. Cut to shape panels, delivery available. See more info here: https://www.rehau.com/gb-en/fabricators-installers/surfaces/glass-laminate/rauvisio-crystal-mirror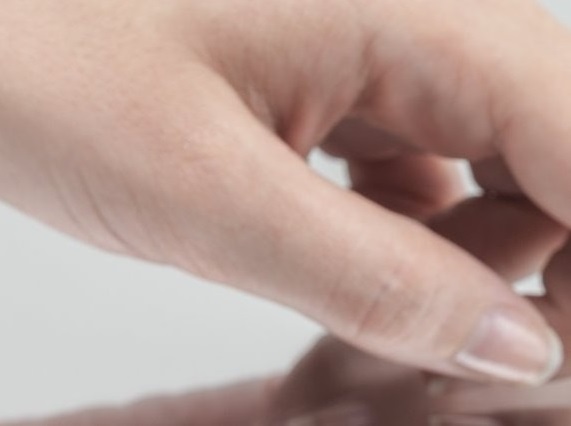 Flybridge Screen Replacement
We specialise in replacement Flybridge screens and fully understand the frustration of being unable to replace your screens through your boat manufacturer.
With over 85 years of knowledge in the marine screen industry we are able to offer you a service second to none!
Our oven forming, tooling and computerised CNC machine routing to shape facilities are ranked among the highest in Europe.
If you have any questions about our marine fabrications please contat us at sales@portsynthetics.co.uk
ACRYLIC – Trade names Perspex, Plexiglas, Altuglas etc
Available in
clear 2mm – 50mm
tints 3mm – 15mm
Used mainly for windows, hatches, washboards & screens
10 year warranty
30 times stronger than glass but a fraction of the weight
POLYCARBONATE – Trade names Makrolon, Lexan, Marlon etc
Available in
clear 1mm – 12mm
tints 3mm, 4mm, 5mm & 6mm
Used mainly for wrap around speedboat screens (3mm/4mm thick), which are able to be cold bent to suit.
In general we do not recommend the use of polycarbonate in a marine environment as the softer surface scratches much easier than that of acrylic. However, in extreme cases where impact strength is paramount, we can supply this material with an abrasion resistant coating, although this is much more expensive option.
Boat Windows – When to Fit a Replacement Window
Taking care of your boat windows (also known as marine windows) is a great way to avoid having to do the boat windows replacement procedure due to disrepair. Having ports or windows in your boat serves a variety of purposes, they add appeal, light, and can increase the value of your boat. Ports are generally smaller than boat windows, with some windows being as large as those found in a home. Regular repair is also recommended especially if your boat spends a significant amount of time in a salt-water environment as this can damage parts of the boat windows themselves, as well as the surrounding parts.
Essential Maintenance of Your Marine Windows
All types of boat windows are going to require maintenance and parts will need to be replaced if they become damaged. For example, seals are an important part of the boat windows and are often overlooked; they are designed to help keep moisture out of the boat by forming a tight seal around the window. Salt air can be damaging to the wood, fabrics, fittings and plastics in a boat. To avoid the type of damage that comes from prolonged exposure it is important to check the ports and boat windows for cracked glass / acrylic panels or damaged seals and fittings.
Do Your Boat windows Have Seals?
Most boat windows have a seal. In some cases, they will have two, one for between the glass and the window frames and the other for between the frame and the hull of the boat. If there are cracks in either of the seals, the window can be compromised. Even if these cracks do not let in potentially damaging salt air it can cause moisture to build up between the window frame and the hull and can cause mould and mildew to grow. If your boat is wood, it can even cause the wood to rot if there is prolonged exposure.
Keep Them Water Tight
Rubber is one of the common materials that are used to make watertight seals on ports and boat windows. If they are not cared for they can end up drying out and cracking. When this happens, the seals need to be replaced. If a seal has been damaged for an extended period, you may end up needing to replace the entire window. Replacement does not have to be limited to times where you find damage. There are other reasons to consider replacing your boat windows. Boats generally have enclosed cabins, ports and boat windows are one of the easy ways that airflow is provided to cabins.
Reducing Your Costs
Ports and boat windows can be as energy efficient as windows designed for homes. You can purchase windows with double paned or thicker glass, although clear or smoked acrylic panels are often preferred for value and durability. This can help to insulate the cabin from outside changes in temperature. Damage is not the only reason for boat windows to be replaced. Many people consider replacing their marine windows and ports as a way to reduce fuel and energy expenses by insulating the cabin. When your boat windows and ports are in good repair they provide significant benefit to you and your boat. Boat Windows help to protect against outside temperatures, damp creeping in and help to keep the inside protected and provide light and air to the cabin.
In Summary About Boat / Marine Windows
First of all, if you need help, advice or a quote Contact Us Here. Acrylic is a light weight tough material that is often preferred to glass when mariners decide to replace their boat windows. just make sure that you replace your Boat Windows before you develop major problems.
---
More Boat Window and Boat Hatch Photos